Kerstafvaart MSC Lirica
Kerstafvaart MSC Lirica naar de Verenigde Arabische Emiraten en India
Vanaf vandaag introduceert MSC Cruises een nieuwe aanbieding op de Kerstafvaart (vertrek 22 december 2018) met de MSC Lirica naar de Verenigde Arabische Emiraten en India op basis van Fly & Cruise.
Nu inclusief gratis lunch & diner restaurant drankpakket en 2 gratis excursies voor de 1e en 2e persoon in de hut.                                                                                                                                                                                                                                                                                                                                                                                                                                                                                                                                                           
Vaarschema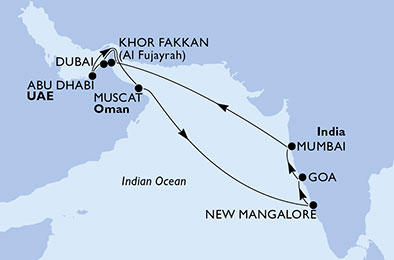 | DAG | DATUM | HAVEN | AANKOMST | VERTREK |
| --- | --- | --- | --- | --- |
| 1 | zaterdag, 22 dec 2018 | Dubai, Verenigde Arabische Emiraten | – | 22:00 |
| 2 | zondag, 23 dec 2018 | Abu Dhabi, Verenigde Arabische Emiraten | 07:00 | 21:00 |
| 3 | maandag, 24 dec 2018 | Op zee | – | – |
| 4 | dinsdag, 25 dec 2018 | Muscat, Oman | 07:00 | 17:00 |
| 5 | woensdag, 26 dec 2018 | Op zee | – | – |
| 6 | donderdag, 27 dec 2018 | Op zee | – | – |
| 7 | vrijdag, 28 dec 2018 | New Mangalore, India | 08:00 | 18:00 |
| 8 | zaterdag, 29 dec 2018 | Goa, India | 08:00 | 16:00 |
| 9 | zondag, 30 dec 2018 | Mumbai/Bombay, India | 08:00 | – |
| 10 | maandag, 31 dec 2018 | Mumbai/Bombay, India | – | 17:00 |
| 11 | dinsdag, 01 jan 2019 | Op zee | – | – |
| 12 | woensdag, 02 jan 2019 | Op zee | – | – |
| 13 | donderdag, 03 jan 2019 | Khor Fakkan, Verenigde Arabische Emiraten | 08:00 | 18:00 |
| 14 | vrijdag, 04 jan 2019 | Dubai, Verenigde Arabische Emiraten | 09:00 | – |
| 15 | zaterdag, 05 jan 2019 | Dubai, Verenigde Arabische Emiraten | – | – |
Lunch & Diner restaurant drankpakket: Onbeperkt wijn per glas (een keuze uit 2 witte, 2 rode en 1 rosé huismerk wijnen), mineraalwater, tapbier, frisdranken en vruchtensappen tijdens lunch en diner. De dranken die onder dit pakket vallen, kunnen worden genuttigd in de à la carte restaurants en bij de buffetrestaurants, maar niet in de specialiteitenrestaurants. 
MARVELS OF MUMBAI 
Duration: approx. 4 hours
Experience the highlights of this fascinating city, with its western monuments and eastern sensibilities. The tour begins at the Gateway of India, the city's most famous landmark – an Indo-Saracenic archway built in 1911 to commemorate the visit of King George V and Queen Mary. You will then drive on to the western shores of the island and on to the Art Deco Marine Drive, at night also known as the Queen's Necklace, because of its illuminated curve around the bay. At the far end of this promenade you will see the popular Chowpatty beach with its enticing array of food stalls epitomising the city's celebrated street food culture! Continue to your next stop, the Dhobi Ghats, where you'll be fascinated by a simple activity that is common all over the world but a highlight in Mumbai:  the laundry. Each morning laundry from all over Mumbai is brought here to be soaped, soaked, boiled, beaten, and thrashed. The next day, after being aired, pressed, folded and wrapped, the bundles are returned to their owners. The secret 
that keeps the operation running smoothly is the coded symbol that each Dhobi-Wallah places on every item. Invisible to the untrained eye, this mark ensures that nothing will be lost. The tour then takes you on to Mani Bhavan, Gandhi's Mumbai residence between 1917 and 1934. Mani Bhavan is now a permanent museum and memorial to the mahatma. It contains a research library of more than 20,000 volumes, and a series of tiny dioramas, a fascinating depiction of his life story. The walls are covered with photos of historic events and world-famous people. You will then visit the Prince of Wales Museum, built in a blend of Gothic and Moorish styles, and crowned by a sparkling white dome. The most impressive features of Mumbai's cityscape are the Gothic revival buildings built in the last century after its original fortifications were removed. Fine examples include Mumbai University, the High Court, and Victoria Terminus, a remarkable railway station enriched with domes, spires, Corinthian columns and minarets. India's first train departed from this station in April 1853; today half a million commuters use the station each day. 
Please note: While little walking is required on this tour, there are a considerable number of stairs involved in the visit to the Prince of Wales Museum and Mani Bhawan. There is no stop at Chowpatty beach; guests will see it as the coach passes by.
TEMPLES, CHURCHES & SPICE 
Duration: approx. 5.5 hours
Take a break from the ship and instead step back in time on a tour that begins with a visit to Goa's former capital, the UNESCO World Heritage Site of Old Goa. Your first stop will be at the Basilica of Bom Jesus, an early 17th-century building in Indian Baroque style, followed by Se Cathedral, a splendid edifice with a largely white façade that was consecrated in 1640. As India's largest Christian church, it boasts an elegantly vaulted interior. You'll then move on to the Museum of Christian Art, home to a fascinating set of artefacts covering all aspects of Christian art and said to be the only one of its kind in Asia. A drive to the Ponda taluka region follows to reach the Mangueshi Temple, a superb white-and-red building dedicated to Manguesh, a major deity in the region and an incarnation of Lord Shiva. The final stop will then be at the "Tropical Spice Plantation" for a pleasurable walk around the aromatic spice, herb and fruit garden, after which you'll return to your ship. 
Please note: limited number of guides in languages other than English. Should a tour guide for your language be unavailable, the tour will be in English only
 guests using a wheelchair are advised that they must be accompanied by a paying helper to provide assistance with getting on and off the coach and that wheelchairs must be collapsible/foldable since the coach has neither a ramp nor a lift. Guests using a wheelchair who would like to participate in this tour are requested to contact the Shore Excursions' Desk promptly once they are on board so that arrangements can be made. 
Conservative attire recommended for visiting places of religious importance.
Vlucht informatie Fly & Cruise Emiraten:
– Heen: 1 dag voor vertrekdag cruise Amsterdam -Dubai  EK 150 22.00-07.45* 
(Vertrek vlucht is 1 dag voor vertrek cruise, aankomst op dag van inscheping)
– Terug: op de dag van ontscheping Dubai-Amsterdam     EK 147 08.10-12.40
*= aankomst de volgende dag
EK= Emirates
Boekingsperiode
: Vanaf 31 mei 2018 tot en met 30 juni 2018, of zo lang de voorraad strekt.   
Voorwaarden:
Ø
Deze actie kan niet worden gecombineerd met andere lopende promoties/acties/aanbiedingen.
Ø
Er zit per hutcategorie een restrictie op betreffende het aantal hutten beschikbaar voor deze promo- hiervoor geldt: Op=OP.
Ø
MSC Cruises behoudt zich het recht voor op ieder moment deze actie te beëindigen.
Ø
Indien de geselecteerde excursies zijn volgeboekt behoudt MSC Cruises zich het recht voor om andere excursies aan te bieden.
Ø
Inclusief Lunch & Diner restaurant drankpakket is geldig voor 1
e
 en 2
e
 persoon in de hut- indien de hut wordt bezet door meer personen dan dient voor hen het Lunch & Diner restaurant drankpakket er 
verplicht tegen betaling 
bijgeboekt te worden. Indien men gebruik maakt van de mogelijkheid, tegen betaling, tot upgraden naar All -inclusieve dan geldt deze verplichting ook voor 
alle 
personen in de hut.
Ø
Alle boekingen voor deze actie dienen uiterlijk 
30 juni 2018 23.59 uur
 definitief geboekt te zijn.
Vertrek
22-12-2018
Reisduur
15 dagen
Vervoer
Fly&Cruise
Verzorging
Volpension